If you have ever wanted to explore the Australian Outback, this is your chance!
AMS Travel Sales, Shoretrips, and Monograms are teaming up to bring you an amazing, once in a lifetime Geocaching opportunity in Australia! Your tour group will visit the northeast city of Cairns- where we'll find geocaches, as well as experience the iconic Great Barrier Reef! After Cairns, we'll fly to the outback itself and explore the majestic and mystical Ayer's Rock (aka Uluru)- this is an earthcacher's paradise! We'll end the tour on the highest of notes with three days to explore Sydney's geocaches and amazing attractions.
Pricing: $2,690 per person, not including airfare (neither international nor internal flights).
Price includes hotel accommodation, services of a local host, some meals, and exclusive tours.
Air schedules are not yet out for these dates. We should have more information on flights this fall. Airfare will be fairly high, please budget a minimum of $3,500 for airfare, and remember that it takes two full days to fly to Australia from the west coast. You'll want to plan to depart the US West Coast on 8/21 to arrive on the 23rd.
Initial deposit is $250 per person, nonrefundable.
To request a quote or for more information, please fill out this form or call us at 844-719-7802.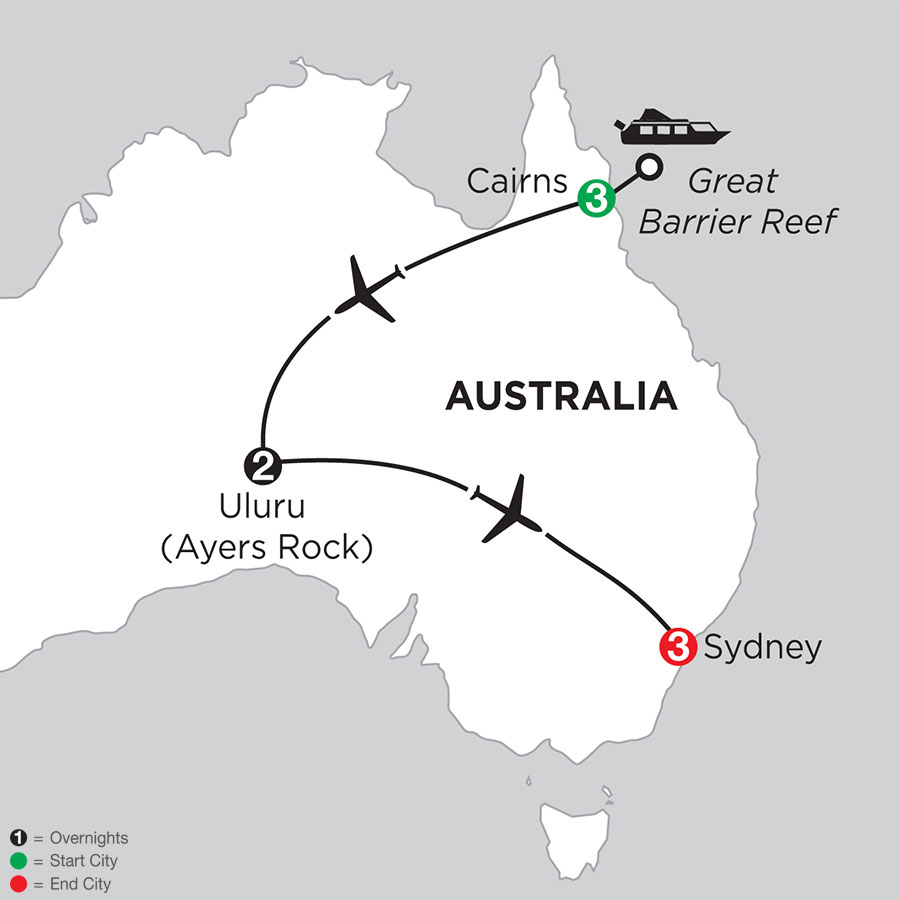 Aug 23: Arrive in Cairns - rest of day at lesiure
Aug 24: Today, prepare for the experience of a lifetime when you board a CATAMARAN CRUISE to the Great Barrier Reef, one of the Seven Natural Wonders of the World. Explore this underwater world that is a dazzling kaleidoscope of color and brilliance. Choose to SNORKEL, take a semi-submersible WATERCRAFT TOUR, or attend a presentation by a marine biologist. Return to Cairns, where the evening is at leisure. Breakfast and Lunch included
Aug 25: A full day at leisure to explore Cairns. We'll be doing that while hunting for geocaches with the help of our own private vehicle! Breakfast included
Aug 26: Today, fly to Uluru. (Ayers Rock). The rest of the day is at leisure. Breakfast included
Aug 27: This morning, rise early for an inspiring sunrise over Uluru and Kata Tjuta (the Olgas). Witness incredible views over the dunes and stunnng desert landscape. Continue to Walpa Gorge for a GUIDED WALK through Kata Tjuta. Later this afternoon, visit the Uluru-Kata Tjuta Cultural Centre, which houses an amazing collection of ceramics, paintings, and punu (woodwork) from the Anangu people, the traditional custodians of Uluru. Finish the day at "Sunset Strip" for a DRINK & CANAPES, and to witness the changing colors of the rock. Breakfast included
Aug 28: Today, fly to beautiful Sydney. The rest of the day is at your leisure for independent activities. Breakfast included
Aug 29: Enjoy a morning guided sightseeing tour that includes an Opera House and Harbour Bridge photo stop. Visit stunning BONDI BEACH, considered by many to be the most beautiful beach in Sydney. The afternoon is at your leisure. Breakfast included
Aug 30: Today we explore Sydney's geocaches via motorcoach! Breakfast included
Aug 31: After breakfast our journey comes to an end! Breakfast included